The multiverse of mobile gaming now offers something for everyone, from arcade games and simple puzzles to high-end first-person shooters and multiplayer RPGs. Player retention is an integral part of the success of any game, and, as more and more games appear on the market, it is vital to ensure that your players are inspired to come back and play every day.
If you are working on a mobile game, one thing you should consider are daily login rewards. Each time a player starts a session that day, they are rewarded with something. It could be in-game currency, XP Points, cosmetics, and others. This rewards the player for doing what they want to do anyway, play your game! It also creates a sense of progression and a way for players to earn with their loyalty vs any specific game achievement.
To inspire the design of a daily login system for your game, here are a few games that use the reward system effectively to inspire long term player retention.
Hearthstone
Based on the popular game World Of Warcraft, Hearthstone is a digital collectible card game published by Blizzard Entertainment. The game is free to play with over 10 million downloads on the Play Store and is rated four stars with over a million reviews. Since it's release, Hearthstone has done incredibly well in retaining a loyal fanbase with its robust multiplayer experience.
Hearthstone offers Daily Quests to players awarding them Gold for the successful completion of specific missions. This is a huge incentive, especially for newer players looking to build their decks. Gold is an essential in-game resource that is spent to replenish your resources, as well as level up characters. By featuring daily rewards that feature Gold, it helps recent players achieve their deck building goals faster, rewarding them for consistent and early retention that helps turn Hearthstone from a game into a habit and a hobby.
Hearthstone is worth a play through to see all these retention systems in action.
Angry Birds
Angry Birds is not only a popular game, but it has build an enormous worldwide pop culture following across gaming, movies, TV, and toys. The quirky art design and the freshly accessible physics based game mechanics propelled this game of Birds and Pigs into superstardom.
Core to the game are a series of integrated rewards that increase with daily login streaks to boost gameplay and add cosmetics. In addition to the dailies, every level cleared opens up new bonuses, and these deep progression systems encourage repeat sessions and high player retention. If you are considering a progression meta with daily rewards, study Rovio and their Angry Birds titles for inspiration and instruction.
If you haven't played Angry Birds, give the latest game a try and take some notes!
Temple Run
Temple Run is now considered a classic of mobile gaming, practically inventing the genre of endless free running. With straightforward controls, accessible mechanics, and short play sessions, it remains a popular franchise amongst players.
This game also uses a streak-based daily reward system that stacks your rewards with higher and higher levels of return sessions. Players can complete challenges daily to unlock even more rewards.
If you haven't played Temple Run recently, perhaps it's time to revisit it for "research purposes!" 
Super Mario Run
Super Mario Run is an endless runner game based on the Nintendo Mario franchise. Since its launch, it has acquired a bit of a Nintendo cult following with over 100 million downloads on Google Play Store. In the game, you play as the iconic characters of the Mario franchise sprinting and dodging your way through the levels.  It rewards players for progression, as well as through many limited time events and missions, where players can attain items for building their team. Check it out!
Star Trek Timelines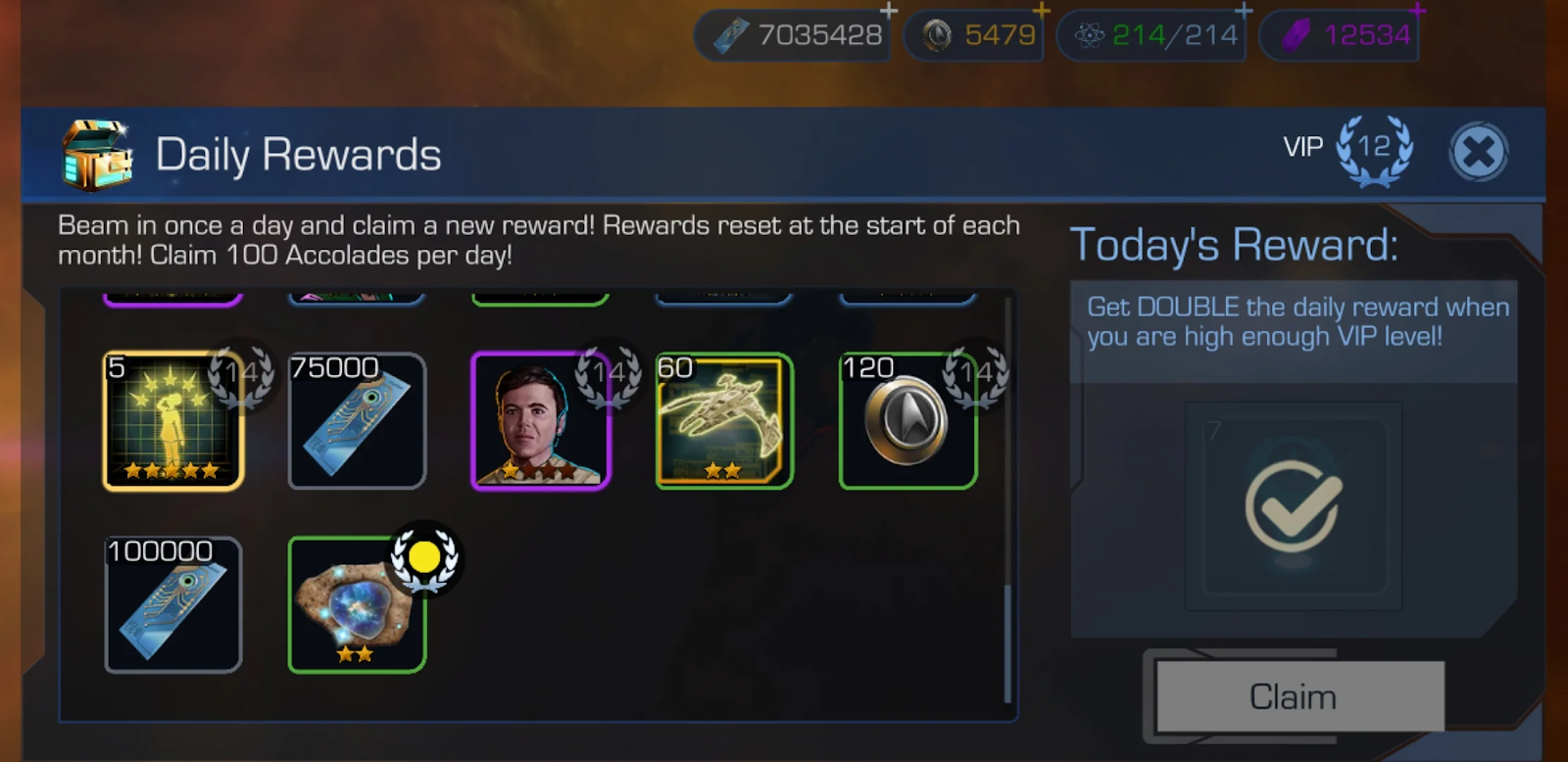 Star Trek Timelines (STT) was created by many of the people who work at Beamable, so we know that game inside and out! It also uses many features of Beamable that make daily reward systems possible!
In STT, you play a starship captain in the Star Trek universe trying to discover why the timelines are fractured. It is a collectible character role playing game (CCRPG) that features thousands of different characters from the show.
There are multiple daily reward systems built in. There is your daily reward which grants better and better prizes based on your login streak. There are daily missions that grant merits which can be used to acquire more items for your character levels. There is also a battle pass system that rewards you additional daily rewards throughout the entire month. There is a subscription you can purchase to also unlock a premium tier of battle pass rewards (called Campaign rewards). All of these systems drive huge retention in the STT audience and give them the resources they need to build their character collection into the hundreds.
Give STT a play through to see how these daily reward systems work together.
Building Daily Rewards in Unity
If you are building your game in Unity and looking for a way to implement a daily reward system, you really should check out what we are doing at Beamable.
Beamable includes a Reward Calendar system which is configurable via our content workflow. Players can claim rewards from a variety of reward calendars, which can be free, unlocked in game, or purchased via the store. Developers can customize which rewards players can claim on which days, and how many claimable days are available. This feature incentivizes both engagement and monetization, and powers game mechanics like Daily Rewards, Battle Pass and Monthly Cards. If you are interested, grab a free copy of Beamable and check it out!