Grab a blanket and a cup of coffee and get cozy with these indie games.
As we near closer to the holiday season, there is a multitude of cozy games to wishlist releasing in 2022. In this week's blog post we're revealing three games that have caught our attention.
Rainboy
Our first game is Rainboy, a precision platformer displaying hundreds of levels. Cast into the universe knowing nothing prior to the world, you'll explore the seven wondrous worlds and adventure through sleepy pandas and treacherous bosses. The brightly lit aesthetic, and wondrous sounds, will force you to search for your purpose in the world and what it means to be alive.
Aka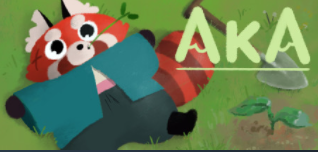 The second game that caught our eye is Aka. With hand-drawn elements, you'll traverse a small open-world game where you can feed baby dragons, nap on a giant monster, and take care of the environment that surrounds you. As you explore you'll be reminded of demons from your past you try to forget and are forced to confront.
Naiad
Our final cozy game for this week is Naiad. Setting to release during Q2 of 2022, Naiad is simply "A game about nature." Curated in a beautiful art style, you'll be able to sink into the clarifying waters to relax and explore various environments.
For more information on these games follow:
@Sealllio for Rainboy wishlist here: https://store.steampowered.com/app/1758250/Rainboy/
@BarthelemyNamra for Aka wishlist here: https://store.steampowered.com/app/1591450/Aka/
@HiWarp for Naiad wishlist here: https://store.steampowered.com/app/1813860/NAIAD