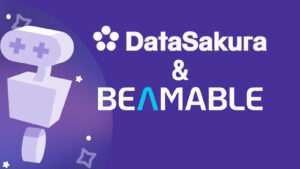 What it means for you:
DataSakura and Beamable are announcing a development partnership to help game developers with full cycle development, maintenance, support, and implementation of the Beamable Live Game Platform to power LiveOps and multiplayer experiences. 
DataSakura was founded in 2018 and has spent 10s of thousands of hours building and maintaining hit titles like Cut The Rope, Fruit Ninja, and Jetpack Joyride. They have deep experience with live game backend development, and a partnership with Beamable will allow them to get games to players faster, and operate more sophisticated LiveOps and content design. 
"We are inspired to collaborate with Beamable," stated Andrey Vengerskiy, CEO of DataSakura, "they offer a powerful game server option for any new title or any title wanted to migrate off of a legacy backend." 
Jon Radoff, CEO of Beamable explains, "DataSakura and Beamable both focus on helping game makers create the best games possible while accelerating game development and lowering costs. This partnership will help us take that focus to a new level."
About DataSakura:
Founded in 2018, DataSakura offers full cycle game development services with a focus on excellence, full transparency and giving customers total control to scale up or down depending on project requirements. In addition to full cycle development, DataSakura also offers maintenance and support so that developers can reduce their development costs and enjoy step-by-step development acceleration for their projects.
About Beamable:
Beamable is a gateway to powerful game server functionality, enabling player authentication, rich game analytics, content management, player CRM, and much more utilizing one line of code. Led by a team of game-industry and software-as-a-service veterans and backed by investors including Companyon Ventures and GrandBanks Capital, Beamable fights for the game makers of the world by enabling them to build faster and operate worry-free.
Want to learn more about this partnership? Sign up for Beamable today or reach out for an introduction to the DataSakura team.